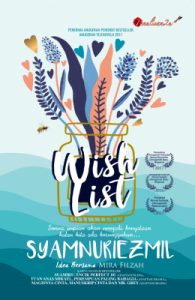 SEKEPING not RM20 aku letakkan ke dalam jar. Kemudian sekeping lagi not RM5 aku letakkan ke dalam jar yang berisi khusus untuk duit not RM5. Fuh… Lega. Kalau tak, asyik nak terpakai aje duit tu. Oren hijau mata aku melihat jar yang sudah hampir penuh. Nak kena beli jar baru ni.
Ohhh…
Hampir aku terlupa.
Jar of… Quote of the day!
Aku ambil sehelai kertas dari dalam jar yang penuh dengan kata-kata semangat itu dan aku baca.
Better an oops… Than what if.
Ceh…
Petikan ni macam memerli aku aje.
Kertas itu kemudiannya aku letakkan ke dalam jar lain. Boleh recycle semula bila petikan kata-kata semangat dalam jar tu… Dah habis. Begitulah setiap hari.
Banyak sangat jenis jar yang aku simpan. Jar untuk duit pergi bercuti. Jar untuk duit beli telefon bimbit yang baru. Jar untuk tabung duit RM20. Jar untuk tabung RM5. Jar untuk petikan kata-kata… Kata-kata untuk motivasi, kata-kata untuk ketenangan… Kata-kata untuk setiap hari… Kata-kata untuk cinta.
Heh…
Ah… Safa, serius kau ni miss hopeless romantic!
Dan tak lupa…
Jar of wish list.
Ini jar yang paling penting dalam semua jar yang ada. Wish list dalam jar ni… Adalah senarai top secret dalam hidup aku. Sebab itu, jar ni… Aku tak letak sembarangan atas susunan koleksi jar aku. Bahaya… Takut orang baca. Yalah, hidup kalau tak ada impian dan keinginan… Buat apa kita hidup, kan? Dalam jar itu, terkandung semua impian yang aku mahu dalam hidup aku. Ya betul… Kalau setakat berharap aje tapi tak berusaha… Itu tak ada maknanya juga. Dalam jar ini, aku kumpulkan apa yang aku mahukan, jadi aku akan ingat apa yang perlu aku sempurnakan.
Antara wish list aku ni…
Aku nak beritahu pada Umair Wajdi yang aku cintakan dia!
Hmmm…
Dah lama aku simpan hasrat aku ni, sejak aku mula merasakan hubungan aku dan Umair Wajdi, bukan hanya setakat kawan baik. Tak tahulah apa yang aku rasakan ini wajar atau tak, tapi yang aku tahu, tak ada lelaki lain yang boleh hidup bersama aku kecuali Umair Wajdi. Dia segala- galanya. Dia mengenali aku lebih daripada papa aku sendiri. Papa pun tak faham aku macam Umair Wajdi. Dia selalu ada kalau aku gaduh dengan papa. Dia tenangkan aku. Dia selalu ada untuk aku. Dia dunia aku. Bayangkan kalau dia tak ada, dunia aku macam mana?
Ya…
Petikan better an oops than what if tu memang betul-betul mengena batang hidung aku. Tapi, macam mana aku nak cakap dengan Umair Wajdi kalau betul aku sukakan dia sejak sepuluh tahun aku berkawan dengan dia? Tak tahu bagaimana perasaan itu boleh muncul tapi, aku rasa… Aku dah jatuh cinta dengan dia sebelum aku kenal dia. Macam… Dah tercipta untuk ke syurga bersama. Persoalannya, adakah Umair Wajdi merasakan hal yang sama seperti aku? Kalau aku cakap… Buatnya dia tak ada perasaan apa-apa pun… Macam mana? Tak ke malu setepek! Lebih baik remain sebagai kawan baik. Aku tak kehilangan dia, dia tak menjarakkan dirinya dengan aku.
Tapi, kalau sebenarnya Umair Wajdi pun punya perasaan yang sama, macam mana? Ah… Dia lelaki… Pandailah dia mulakan langkah dulu. Kalau dia jatuh cinta pada aku, dia akan cakap lebih awal, kan? Tak perlu tunggu selama sepuluh tahun.
Kalau dia fikir seperti yang aku fikirkan… Mungkin dia tak nak hubungan ni terjejas selepas dia beritahu yang dia cintakan aku… Macam mana pula?
Ah…
Peninglah bercakap hal perasaan!
Baik laaa kita siap-siap pergi ke pejabat. Too much work to handle… Daripada fikir soal hati dan perasaan. Lagipun, bukan hati dan perasaan saja wujud dalam dunia ni. Banyak lagi perkara.
Speaking of the devil…
Telefon aku berbunyi dan nama Umair Wajdi muncul dalam skrin.
"Tak pergi kerja lagi?"
"Belum. Baru nak keluar. Kenapa?"
"Lambat hari ni?"
"Mana ada. Biasa aje. Awak kat mana?"
"Kat hati awak."
"Kalau macam tu, awak tahulah kenapa saya lambat."
"Kenapa?"
"Sebab teringatkan awak."
"Ohhh, Safa… You've got me."
Aku tergelak.
"Kereta Ummi tak ada… Dia dah keluar ke?"
Aku… Tersentak. Terus hilang ketawa.
"Eh… Mana tahu Ummi tak ada?"
Aku dengar suara Umair Wajdi pula ketawa. Sahihlah dia…
Terus aku buka pintu. Ternyata Umair Wajdi di luar… Senyum dan melambai pada aku. Suka tau… Buat kejutan macam ni. Macam tahu-tahu saja, aku teringatkan dia pagi ni. Gara-gara quote tadilah tu!
"Ada apa ni? Tiba-tiba muncul depan rumah."
"Saja. Rindu."
"Jangan pandai cakap saja… Tak pandai buat."
Umair Wajdi ketawa. Aku kemudian membuka pintu pagar. Kereta Ummi memang dah tak ada. Awal lagi dia dah pergi ke kedai. Dia mempunyai sebuah kedai menjual bunga segar dan setiap pagi, seawal pukul 7, dia dah keluar sejak Zila, pekerjanya bercuti. Awal pagi lagi, selalu pembekal bunga dah muncul depan kedainya. Yalah, turun dari Cameron Highlands. Petang nanti, ke kedai dialah tempat aku lepak!
"Sarapan sama?"
"Boleh."
"Naik kereta saya, nanti saya hantar ke pejabat. Petang nanti saya bawa awak ke kedai Ummi."
"You spoiled me… Dah seminggu macam ni. Kenapa? Nak kata bulan hari jadi saya atau awak… Bukan pun."
"Alahhh… Baru seminggu. Bukan selalu. Nanti bila saya tak ada… Awak bising, kenapa saya tak jumpa awak, kenapa saya sibuk sangat. Kenapa itu, kenapa ini? Awak kan banyak kenapa daripada banyak menerima."
"Yalah… Yalah."
Umair Wajdi membukakan pintu untuk aku. Such a gentleman. Manalah aku tak suka. Mana ada wujud lelaki seperti dia lagi dalam dunia ni. Dah pupus!
"Kenapa? Tak suka ke?" tanya dia sebaik saja masuk ke dalam kereta dan duduk sebelah aku.
"Eh… Suka. Lagilah sekarang harga minyak dah naik. Lebih seronok kalau ada yang tumpangkan. Cuma, tak susahkan awak ke?"
"Tak adalah. Minggu ni aje, minggu depan tak sempat nak buat macam ni."
"Sebab?"
"Manalah tahu… Sibuk ke?"
"Sibuk sangatlah kerja lecturer tu ya…"
"Sibuk bila dapat jadi pensyarah kanan."
"Whattt?!!!"
Aku terkejut. Umair Wajdi naik pangkat. Patutlah… Dia seronok sangat minggu ni dan banyak sangat masa lapang, nak ambil aku, nak hantar aku. Rupa-rupanya… Ada yang menggembirakan hati dia.
Umair Wajdi senyum.
"Sibuk macam mana nanti?"
"Akan ke KL selalu."
"Ohhh… Kena pindah sana ke nanti?"
"Dan tinggalkan awak kat sini? Mana boleh!"
"So, you have to marry me la…"
Dan aku…
Terus menekup mulut.
Umair Wajdi memandang aku. Dia agak terkejut bila aku cakap macam tu. Haih, apa mulut aku ni… Kenapa terkeluar yang bukan-bukan pula ni? Malunya aku! Mana nak letak muka aku ni? Takkan nak letak dalam dashboard pula?
"Is that a wish list, Safa?"
"Lapar… Sekarang… Jalan."
Umar Wajdi senyum.
Hesy, Safa Auliya… Buat malu seluruh perempuan dalam dunialah kau ni!
****
MALU…
Tersangat malu.
Tak tahu celah mana aku nak letak muka aku ni? Lagilah bila Umair Wajdi asyik senyum saja bila dia pandang aku. Terasa kena simbah cat merah pula ke muka aku. Bukan aku ada hutang dengan dia pun. Dia yang hutang perasaan dia dengan aku.
"Kenapa senyum?
"Saja. Sedekah."
"Bukan sengaja senyumkan saya?"
"Kenapa nak senyumkan awak?"
Umair Wajdi senyum lagi.
"There… You did it again."
"Apa? Senyum aje kot!"
"Eleh…"
"Kalau ya pun senyumkan awak… Senyum sebab apa, eh?"
Cehhh…
Kura-kura dalam perahu…
Pura-pura tanya aku!
"Entah. Tak tahulah. Kenapa, eh?"
"You tell me…"
Senyum-senyum tak habis. Pantang silap sikit. Silap aje jadi bahan.
"Betul apa… Kalau tak nak tinggal kenalah bawa."
"Tak kata tak betul. Tapi betul ke?"
"Entah. You tell me…"
Masuk saja pejabat, aku terus capai telefon dan telefon Ummi. Tak boleh tahan dah tahap malu aku ni. Tak boleh tahan nak simpan.
"Ya Allah, malu aku, Mi… Aku tak tahu laaa nak letak muka aku yang vogue ni kat mana. Hilang dah vogue, Mi… Hilang! Rasa macam nak berdiri depan kereta dia, suruh dia langgar aku bolak-balik… Bolak-balik tau."
"Sat… Sat. Apaaa hang ni? Tiba-tiba aje telefon aku teruih pom pang pom pang macam kompang. Salam tak dak, helo pun tak dak, tiba-tiba malu yang hang dapat. Aku tak fahamlah. Cuba hang habaq kat aku satu per satu. Aku ni kerja kedai bunga aja, bukannya nak ke mana. Jangan kalut boleh dak? Suka duk buat kalutlah dia ni."
Kan…
Dah kena bebel dengan mak tiri.
"Aduh, Mi… Aku tak tahulah aku ni dah buat silap besar ke tidak."
"Silap apa ni?"
"Kau nak tahu tak, Mi… Aku pi ajak Umair kahwin dengan aku… Unintentionally!"
"Unintentionally? Maksud hang?"
"Aku terlajak ajak…"
"Hah?"
"Just slipped out of my mouth…"
"Apa hang kata… Hang terlepaih cakap? Terlajak ajak?"
"Haaa…"
Dan…
Ummi ketawa besar. "Bolehlah geng dengan Dato terlajak laris tu…"
Tak guna betul punya kawan!
"Ketawa pula."
"Sat… Sat. Lagu mana boleh terlajak ajak? Takkan saja nak terkeluaq kalau tak terpikiaq, kan?"
"Alaaa… Ini semua quote of the day tu punya pasallah. Konon better an oops than what if… Sekarang memang oops… Tahap tercekik celah kerongkong dah ni. Malu aku, Mi… Malu. Macam mana aku nak berhadapan dengan Umair lepas ni? Mesti dia ingat aku apa-apa…"
"Laaa… Salahkan quote tu pula. Bukan selama ini memang hang berharap yang Umair kahwin dengan hang…"
"Eh…"
Memanglah menjadi salah satu impian dan harapan aku. Aku tahu, Ummi tahu. Ummi tu… Aku tak cakap pun dia tahu. Dia yang meneka aku ada hati dengan Umair Wajdi. Sejak itu, aku cerita apa saja pada Ummi tentang perasaan aku pada Umair Wajdi. Sekurang-kurangnya, tak adalah terbuku lama sangat rasa aku pada Umair Wajdi tu.
"Malu pi laaa 5 saat aje… At least dah lepaih beban. Kalau hang dah ajak… Dia buat bodoh gak lagi… Sahih dia tu kunyit."
"Haippp!"
Ada pula kata Umair Wajdi aku macam tu. Tak laaa… Dia bukan kunyitlah. Dia tulen kot! Tapi, mungkin adalah yang menghalang dia daripada berterus terang dengan aku. Mungkin nak menjaga perasaan. Mungkin juga nak menjaga persahabatan.
"Ayam masak kunyit… Masak untuk makan malam ni pun sedap gak noh."
Eh, Ummi ni…
"Kerap kali dia senyum dan tanya pada aku…"
"Tanya apa?"
"Is that your wish list?"
"Dan hang jawab apa?"
Nak jawab apa lagi?
Takkan nak jawab ya?
Kantoilah aku. Aku dahlah hampir kantoi… Belum lagi kantoi sepenuhnya. Kalau Umair Wajdi tahu kahwin dengan dia merupakan salah satu wish list aku yang aku rahsiakan daripada dia, matilah aku!
"Kenapa?"
"Saja nak tahu."
"Mana boleh tahu. Kannn… Rahsia. Hanya bila semua wish list kita tu tercapai baru kita beritahu. Kan?"
"So… Kena kahwin dulu, barulah tahu sama ada kahwin tu dalam senarai ke tak, ya?"
"Haahlah…"
"Okay then… Let me rephrase the question."
"Apa tu?"
"Is that a proposal?"
Dan aku ketawa…
Oh, Umar Wajdi… You've got me!
"Hang jawab apa, Safa?"
"Aku tak jawab. Aku gelak aje. So, aku dah kantoi ke, Ummi? Nampak macam aku kantoi ke? Nampak macam aku berharap ke? Hesy… Malu laaa aku, Mi. Malu gila."
"Jangan risaulah, Saf."
"Jangan risau kau kata?"
"Mana tahu, dia on the way nak beli cincin untuk hang. Entah-entah malam ni dia teruih melamaq hang. Kita pikiaq positif sudah."
Positif.
Positif…
Positiflah sangat!
Mana nak boleh positif… Tak boleh nak positiflah, lebih-lebih lagi bila dapat mesej daripada Umair Wajdi tadi, dia kata dia nak jemput aku lewat sikit dan terus makan malam bersama. Huh… Takkan masin mulut Si Ummi kot? Takkan dia nak lamar aku?
"Cik Safa…"
Pintu bilik aku dikuak Fiona. Aku menoleh.
"Ya…"
"Hari ini Cik Safa ada meeting dengan Encik Zahier Adam… From De Kleding Apparel."
"Ohhh… Dia yang nak sewa outlet kat mall kita, right? "
"Haah. Ini akaun penting, sebab this company dari Belanda. Antara syarikat clothing yang terkenal di sana. Baru nak masuk pasaran kita. Tapi kat Asia… Dah agak terkenal."
"So, I'm meeting with the Dutch, then…"
"Heh, Dutch celup!"
Aku tergelak. Pandai Fiona!
"Ini dokumen regarding that meeting. Cik Safa baca dulu nanti senang nak deal. Meeting nanti, lepas lunch tau. So, kalau boleh, have a quick lunch. The Dutch don't like to wait."
Hmmm…
Okey.
"Lagi?"
"Since bulan dua ni nak masuk bulan perayaan Tahun Baru Cina… Bos nak tahu plan Cik Safa. Jadi, dia nak Cik Safa bentangkan idea from marketing perspective macam biasa…"
"Okey… Okey. Ada lagi?"
"Ada beberapa outlet yang nak tamat tempoh sewaan. Ini butiran prestasi setiap outlet… Memudahkan Cik Safa untuk buat pilihan, sama ada nak sambung kontrak atau tamatkan."
"Great… What can I do without you, Fiona? Belum suruh, dah buat."
"Can you remark it at my KPI…"
Aku ketawa besar. Fiona pun tergelak.
Fiona sudah bekerja dengan syarikat itu dah lama. Sebab dia dah lama, aku minta dia jadi PA aku. Senang untuk dia, mudah untuk aku. Lagipun, dia dah biasa kerja dan menjaga aku yang sangat predictable. Sebelum apa-apa, aku suka buat kajian terlebih dahulu. Senang bila kita ada maklumat… Marketing without data is like driving with eyes closed. Susah kan nak drive macam tu? Begitu juga susah kalau kita nak jual kalau tak ada maklumat yang tepat dengan kajian yang konklusif.
So…
Ketepikan Umair Wajdi kejap. Fokus pada Zahier Adam from De Kleding Apparel. Akaun penting untuk syarikat.
"Okey, thanks Fiona. Saya tengok fail the Dutch ni dulu."
"Good choice."
Aku terus buka fail proposal tu di hadapan aku. Hmmm… Akaun penting untuk hati… Ah… That can wait!
eBook penuh boleh didapati di E-Sentral.com
https://www.e-sentral.com/book/info/269431/wish-list