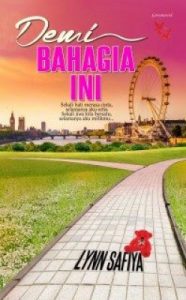 SOFIAH QISTINA, gadis yang dibesarkan dengan segala harta dan kemewahan. Namun dia hanya dahagakan kasih dan sayang papa dan mamanya. Paksaan papa Qistina, Tan Sri Ali Saifuddin, untuk mengahwini lelaki durjana bernama Remy tidak diendahkan demi menjaga maruah serta imannya. Maka dia lebih rela dihalau keluar dari rumah daripada berkahwin dengan Remy.
Lantas peluang pekerjaan yang ditawarkan oleh Ian Iskandar tidak mahu dilepaskan. Dia lebih rela menjadi seorang peneman kepada ibu Ian Iskandar walaupun terpaksa meninggalkan bumi Malaysia dan berhijrah ke kota London.
IAN ISKANDAR, lelaki berdarah kacukan Melayu-Inggeris yang serius lagi tegas. Hidup di bawah satu bumbung bersama Qistina membuat hati lelakinya terusik. Buat pertama kali hatinya terbuka ingin memiliki dan dimiliki. Pertama kali jugalah dia merasakan apa itu kasih, sayang, cinta, marah dan cemburu, hanya kerana seorang gadis.
Kehidupan Qistina menjadi huru-hara dengan perhatian rapi yang diberikan Ian Iskandar. Sikap lelaki itu yang terlalu ingin memiliki Qistina mengiringi setiap langkahnya. Sifat cemburu Ian Iskandar terhadap hubungannya dengan Dr. Ilyas Khan benar-benar melemaskannya.
"Will you marry me, Qistina? Apa yang susah sangat nak faham, Qistina? Soalan simple macam tu pun awak tak boleh faham? Straight forward je kan? Takde bahasa kias, takde teka-teki…" – Ian Iskandar
Mampukah Qistina menerima Ian Iskandar setelah apa yang Remy lakukan terhadapnya? Mampukah Ian Iskandar menerima Qistina seadanya? Mampukah mereka pertahankan bahtera cinta mereka apabila mengetahui Remy masih memburu Qistina? Siapa pula Remy?
Betapa hebatnya cinta seorang lelaki bernama Ian Iskandar terhadap cinta hatinya. Demi Qistina, Ian Iskandar sanggup melakukan apa sahaja… apa sahaja demi kebahagiaan seorang isteri!
---
Dalam ada segalanya, tetap ada kepincangan. Selain dari mempunyai pelajaran tinggi dan kekayaan keluarga, Qistina juga mempunyai peribadi yang elok dan rupa yang menawan. Apa yang kurang adalah kasih sayang keluarga yang terlalu mementing darjat dan business marriage. Nilai-nilai agama tidak diterapkan dalam keluarga sehingga 5 rukun Islam juga tidak dipraktikkan melainkan diri Qistina sendiri. Dia dibesarkan oleh keluarga orang gajinya di rumah sendiri sebelum berangkat ke London untuk melanjutkan pelajaran.
Berlainan dengan Ian Iskandar, jejaka kacukan English-Malay dibesarkan oleh ibunya sendiri setelah berpisah dengan ayahnya. Semua nilai murni, ini dipraktiskan walaupun tidak lagi tinggal di Malaysia. Kerana kehancuran hubungan ibu dan ayahnya dan kemalangan ibunya yang menyebabkan dia lumpuh, Ian lebih senang menghabiskan masa dengan kerja. Dia mencari seorang pendamping bagi ibunya yang kesunyian.
Kerana enggan patuh pada kahwin kerana business, Qistina dihalau keluar dari rumah as soon as she graduated. Two weeks in fact. Dia berlindung di rumah Mak Esah sambil mencari pekerjaan. Secara kebetulan Ian yang mencari pendamping bagi ibunya terima dia bekerja di London after the 1st interview just because of love at 1st sight. Too beautiful too ignore.
Sepeninggalan Qistina, sedikit demi sedikit musibah melanda keluarganya. Ian, as always, jadi penyalamat dalam senyap. Dan siapa Ian dengan bekas tunang tak jadi Qis terbongkar. Segala yang terjadi dalam keluarga Ian 20 tahun lepas started to unravel too.
eBook penuh boleh didapati di E-Sentral.com
https://www.e-sentral.com/book/info/55964/demi-bahagia-ini