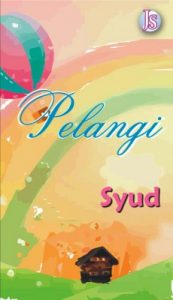 "BOLEH KAU TOLONG ulang balik apa yang kau cakap tadi?"
"Yang mana satu?"
"Ayat yang ada sebut perkataan nak kahwin tu."
Usamah mengerut dahi. "Kau dah suruh aku ulang lebih daripada tiga kali, kan?"
"And suppose my ears don't want to believe that?"
Usamah jongket bahu. Nonchalant. Dia menguis nasi goreng yang masih berbaki di pinggannya. Perutnya masih lapar namun asakkan soalan demi soalan daripada Hazriq sedikit sebanyak mengganggu seleranya.
"Tell your ears. You need to believe it."
"Believe that you're getting married?" ulang Hazriq dalam nada tidak percaya. Sejurus kemudian Hazriq ketawa. "You? Married? No way."
"How about 'yes' way?"
Hazriq menggeleng. "Tak mungkin." Jus tembikai dicapai. "Selama ni aku rasa sebab kau tak ada girlfriend ialah sama ada kau sangat busy atau kau masih pining over Syaz."
"Dah empat tahun dah Hazriq. Kau ingat aku ni suku sakat setia sampai mati ke? Kalau betul dia tu memang untuk aku, mungkin la. Tapi… judging from what she did… kau ingat aku ni buta ke untuk tunggu dia lagi?"
"Tak." Cepat sahaja Hazriq menjawab. Namun sahabatnya itu jelas mengukir senyuman mengusik.
"Kau dengan mama aku sama jek. Tau tak? Semua tak nak percaya." Usamah menggumam perlahan. "Nanti aku bawak lari anak dara orang tu, baru korang tau."
"Bawak lari konon. Yang sorang kat Dublin dulu tu pun tak terjaga…." sindir Hazriq penuh makna.
Usamah kembali menyudu nasi gorengnya. Malas hendak berlawan cakap dengan Hazriq.
"Mesti kau jumpa perempuan Melayu terakhir ni… siapa nama dia?"
Usamah masih lagi setia mengunyah nasi gorengnya.
"Come on, spill the details la. Sanggup kau buat best friend kau ni tertunggu-tunggu?" selar Hazriq sambil buat muka kesian. "Bro, c'mon."
Akhirnya selesai juga nasi goreng di pinggannya itu. Mulutnya dilapkan dengan tisu, sebelum meneguk air kosong. Hazriq masih menunggu dirinya bersuara.
"Aku tak tau nama dia. Atau macam mana rupa dia."
"Kidding."
"No."
Kerutan di dahi Hazriq bertambah selapis. "Then kau tetiba drop a bomb kata nak kahwin? Kau ni kena demam kepialu ke apa?"
Pinggan kosong itu ditolak ke tepi. "Dia… calon menantu pilihan mama aku." Usamah memulakan, dan senyuman sinis automatik terukir di bibirnya sebaik sahaja dia menuturkan perkataan 'pilihan' itu.
Hazriq dilihat terdiam. Mungkin cuba mencerna kata-katanya.
"Aku tak sanggup dengar mama aku bising lagi. So the solution is… marry the woman that she approves." Usamah menyambung lagi.
"So kiranya this unknown lady is your mom's choice?" soal Hazriq. Nadanya membayangkan yang dia masih kabur.
Usamah tepuk dahi. "Kau ni dengar tak apa aku cerita dari awal tadi?"
"Dengar." Hazriq mengangguk-angguk. Kemudian dia seolah-olah tersedar. "Kau rela la ni?"
Sekali lagi Usamah menepuk dahi. "It's a plan, okay? Kau ni sejak bila jadi slow ni?"
Hazriq sekadar tersengih. Dia menggaru kepala. "Entah. Penat kut. Banyak kerja. So now you're going to tell your mom about this? When?"
Usamah tidak terus menjawab.
"Balik kerja ni aku beritahu dia."
Hazriq memandangnya lama, sebelum menggeleng perlahan. "Aku rasa macam baru sebulan lebih kau balik Johor… tup-tup kau kata nak kahwin… wonder kalau kau balik lebih awal daripada tu. Mungkin dah ada little boy yang panggil aku uncle gamaknya."
Tawa Usamah pecah mendengar omelan Hazriq. Namun Hazriq tidak turut ketawa. Dia masih kelihatan serius.
"I hope you're serious this time, bro."
Tawa Usamah terhenti mendengarkan nada Hazriq yang serius. Dia berdeham beberapa kali.
"I really hope you're serious. You're talking about marriage. Ni bukan benda main-main. Berdosa tau tak, main-mainkan ikatan yang bernama perkahwinan ni."
Lama Usamah terdiam. Hazriq memang begitu. Julukan nama 'ustaz' semasa zaman mereka belajar dulu sememangnya padan dengan Hazriq.
"I am serious."
"Bagus."
"I'll let you know how it goes."
"She's a nice lady, right?"
"Nampaknya macam tu lah."
"Bagus. Nanti kenalkan la kat aku."
"Kalau dia terima… kalau tak…" Usamah jongket bahu. "Tak ada rezeki la kau nak kenal dia."
"Dan kau pun tak ada rezeki nak kenal dia jugak, kan?"
Usamah ketawa, sambil mengangguk perlahan. Jam di tangan dipandang sekilas. "Almost two. Thank you la sudi lunch dengan aku. Jauh kau datang."
"Mangkuk. Kau ingat City Plaza dengan Menara Pelangi ni jauh sangat ke? Aku siap jalan kaki lagi."
Usamah bingkas. "Memang tak jauh… but for me to steal masa emas kau tu… thank you."
Mereka melangkah keluar dari kafe itu beriringan. Tiba di pintu keluar Plaza Pelangi, Usamah menghulur tangan.
"Jumpa lagi."
"Kirim salam mama kau."
"Ada masa datang la rumah aku."
Spontan Hazriq ketawa. "Kita ni macam takkan jumpa lagi jek. Lawak la kau ni."
"Ye la tu… kau tu sibuk memanjang. Baik-baik jalan."
Hazriq mengangkat tangan sebelum memusing dan melangkah pergi. Usamah pula mengatur langkah menuju ke lif untuk kembali ke pejabatnya di tingkat sepuluh.
IMAN MERENUNG wajah Mak Su. Terasa sendiri dahinya berkerut.
"Siapa?"
"Cik Kamisah. Iman ingat tak Cik Kamisah yang datang masa tahlil dulu tu?"
"Ingat." Iman mengangguk laju. "Tapi kenapa dia datang…"
"Dia tanya pasal Iman."
Iman makin kabur. Dahlah Mak Su menelefonnya di pejabat mengkhabarkan ada sesuatu yang serius yang memerlukan Iman pulang ke kampung. Tiba sahaja Iman disambut dengan sebentuk cincin yang terletak cantik di dalam bekas baldu merah itu.
"Tanya?"
Mak Su tarik nafas. "Dia tanya Iman untuk anak dia."
"Iman…"
"Dia nak pinang Iman untuk anak dia."
"Iman tahu. Tapi kenapa?" soal Iman pantas. Wajah Mak Su ditenung dalam. Guru matematik itu dilihat tersenyum simpul.
"Mak Su…"
"Mak Su tanya dia tadi… tapi dia kata, dia cuma sampaikan hajat anak dia. Maksudnya, anak dia yang minta dia pinangkan Iman."
"Tapi Iman tak kenal anak dia!"
"Mak Su pun tak kenal." Tutur Mak Su separuh mengusik. "Diam-diam ada peminat rupanya anak sedara Mak Su nih..."
Iman tak menjawab. Mak Su ni! Aku tengah pening dia buat lawak pulak… apa nak buat ni?
"Mak Su beritahu Cik Kamisah, yang apa-apa pun, jatuh pada keputusan Iman sendiri. Mak Su takkan putuskan untuk Iman. Lagipun Cik Kamisah kata, insya-Allah dalam dua tiga hari ni, anak dia akan call Iman. Nak bincang pasal ni."
Iman memegang dahi. Telapak tangannya menggosok-gosok mata yang dirasakan pedih tiba-tiba. Terbayang di matanya, wajah Puan Kamisah yang baik. Dan dia dapat memutar kembali malam majlis tahlil semasa Puan Kamisah datang ke sini. Dan lelaki berbaju Melayu biru muda itu….
Dahinya di tepuk-tepuk. Think Iman think! What shall I do?
"Dah la tu… kesian Mak Su tengok. Iman tak makan lagi kan? Malam ni tidur sini jelah. Esok kan Sabtu. Nak balik pun dah malam ni. Pergi mandi dulu."
"Mak Su…"
"Lepas ni kita cerita lagi ek? Iman letih tu. Pergi la rehat dulu."
"SIAPA?"
"Some mysterious guy that popped out of nowhere."
"Kau tak tau siapa?"
"No. No idea at all. Except…" Matanya jatuh pada bekas baldu di atas meja solek. "A really nice platinum ring."
"A stalker?" Adilah bersuara ala-ala misteri. "You have a stalker. Aku sangat tak sangka kawan baik aku ada stalker!!!"
Iman menjauhkan Samsung itu daripada cuping telinganya. Namun masih dapat didengar dengan jelas butir tutur bicara Adilah.
"Hire a bodyguard, Iman!"
"Kau ni kenapa?"
"You have a stalker!"
"Oh, now I'm Paris Hilton? Siapalah nak stalk aku Adi? Dah la hidung penyek, tak lawa pulak tu. Kaya jauh sekali. Aku setakat drive Wira je. Siapa yang tak ada kerja sangat nak jadi stalker aku tu? Baik dia berkebun ke… buat jigsaw puzzle ke…"
"Okey. Aku dah habis berdrama."
Iman spontan tergelak mendengar apa yang dituturkan Adilah.
"Siapa dia? Aku tau kau tak kenal tapi siapa dia? Menurut Mak Su kau la."
Iman menarik nafas. "Anak Makcik Kamisah."
"Bila korang jumpa?"
"No idea."
"A matchmaking scheme?" Adilah menyoal. Iman terdiam.
"Entahlah… masak otak aku ni…." keluhnya perlahan. "Apa dah jadi ni?"
"Tanya aku pulak…"
Iman baru hendak membuka mulut untuk menyatakan sesuatu namun perbualan mereka terganggu dek satu bunyi menandakan ada panggilan masuk.
"Adilah. Ada call masuk la."
"Oh okey. Karang kita sambung diskus pasal your so-called stalker ni."
"Okey."
Tangannya cepat-cepat memutuskan talian, dan segera menekan butang hold. Dia mengerut dahi seketika. Nombor tidak dikenali.
"Helo?"
"Iman Aisyah?" Satu suara lelaki menerobos cuping telinganya di hujung talian.
Iman terdiam. Kaget bersulam terpaku, dijahit dengan terperanjat. Tiga perkataan yang membawa maksud lebih kurang sama?
Indescribable.
Jantungnya tiba-tiba sahaja bertukar rentak. Lebih pantas.
"Iman Aisyah? Are you there?" suara yang begitu asing itu menyoal, mungkin hairan dengan dirinya yang tiba-tiba senyap.
"S… saya."
"Ingat dah letak tadi." Suara itu seolah-olah berseloroh. Masih tidak memperkenalkan diri.
"Taklah. Still here. Siapa ni?" perlahan Iman menyoal, walau hatinya sudah boleh mengagak.
Baju Melayu biru muda….
Suara di hujung sana kedengaran berdeham. Nervous?
"Usamah. Usamah Razif. I believe that my mom had met your Mak Su today, kan?"
Sah. Jantungnya semakin hebat berdegup. Jika tadi ala-ala Gavin DeGraw, kini seumpama My Chemical Romance.
Apa aku nak cakap ni?
eBook penuh boleh didapati di E-Sentral.com
https://www.e-sentral.com/book/info/9960/Pelangi