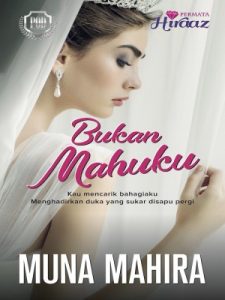 TANGAN menyentuh ruang kosong di sisinya. Sejuk. Entah bila isterinya menghilang. Dia langsung tidak sedar. Mata yang pejam dicelikkan di dalam kamar yang suram.
Huzer bingkas turun dari katil. Tiada di ruang bilik mahupun balkoni. Bilik air juga tiada bayang tubuh genit itu. Lalu dia melangkah keluar dari bilik menuruni tangga mencari isteri yang hilang.
Pencariannya terhenti kala mata mendarat pada sekujur tubuh yang tidak berkutik di meja kecil di dapur. Lama diperhatikan. Tiada tanda isterinya itu sedar akan kehadirannya. Nyata dibuai lena.
Dia menghampiri. Separuh wajah yang tidak terbenam di lengan yang terdepang di atas meja kelihatan bermuram durja. Entah apa yang mengganggu gadis itu.
Disentuh mutiara jernih yang masih bergayutan di alis mata sang isteri. Makin hebat kerutan di dahinya.
Kenapa menangis? Mungkinkah dia terlebih menghukum? Atau isterinya teringatkan kekasih lama? Kemungkinan itu buat matanya berubah dingin.
Tubuh genit itu sekelip mata berada di dalam rangkulannya. Dia memanjat naik tangga kembali ke bilik mereka.
" Fahim…" Terletus nama itu di bibir merah sang isteri. Mematikan langkahnya sejenak. Rangkulan di tubuh genit itu tanpa sedar kuat mencengkam. Hingga menimbulkan kerutan di dahi licin Atiya.
"Fahim, huh?"
Dia tertawa sinis. Bibir merah itu begitu berani memanggil nama lelaki lain di hadapannya. Terlalu berani.
Dia perlu mengajar bibir itu untuk memadamkan terus nama itu dari menjadi sebutan. Isteri miliknya tidak akan dibiarkan memuja lelaki lain!
Pintu bilik ditolak kasar. Tubuh genit itu direbahkan ke katil. Agak kasar perlakuannya hingga terletus erangan kecil di bibir Atiya.
Mungkin kerana terlalu penat melayan tangis buat Atiya sukar untuk terjaga. Hilang dalam lena. Diulit mimpi yang tidak berkesudahan. Bermimpi kekasih hati mungkin.
Bibir merah Atiya disentuh perlahan. Jemarinya dikawal dari cuba mencengkam demi menghukum bibir yang begitu berani memanggil nama lelaki lain.
"This will be the last time…"
Terlalu dingin nada yang memberi amaran hinggakan tubuh genit di sisinya menggigil dalam lena. Aura sang suami terlalu menggerunkan.
Ditarik tubuh itu rapat ke dadanya. Biar tiada ruang yang wujud di antara mereka. Memastikan gadis itu tidak lagi menghilang tanpa disedarinya.
Huzer kembali memejamkan mata. Menikmati malam yang masih bersisa.
SAAT membuka mata, Atiya disambut dengan renungan dingin seorang suami. Entah kenapa dirasakan pagi ini renungan itu lebih dingin dari biasa. Seolah cuba membekukannya. Seluruh tubuh
terasa sejuk. Hampir menggigil dibuatnya.
Dia cuba menolak dada yang menghimpitnya. Dada yang menyukarkannya untuk bernafas. Atau lebih tepat lagi kerana kedudukan mereka yang begitu rapat buatnya tidak selesa bernafas bebas.
Semakin cuba ditolak, semakin hebat dada lebar itu menghimpitnya. Sengaja ingin mendera. Mencabarnya untuk terus mencuba.
Atiya mendengus halus. Pagi-pagi lagi sudah menaikkan darahnya. Tahulah tenaga tu lebih kuat dari perempuan. Tak perlu mempersendakannya begitu.
Di hadapan lelaki itu, dia benar-benar tidak berdaya untuk melepaskan diri. Tidak bermakna dia akan menyerah tanpa cuba menyatakan protes.
"Tepilah. I nak mandi," tingkah Atiya mengalah akhirnya.
Tenaganya seperti hilang ketika ini. Longlai terbaring di tilam empuk. Mungkin kerana aktiviti semalam dan hati yang walang buat seluruh tubuhnya terasa lembik. Ingin tenggelam di katil sahaja.
"Call my name," arah Huzer dengan nada diktator.
Bartaut dahi Atiya mendengar arahan itu. Panggil nama lelaki itu? Seingatnya lidahnya belum pernah menyebut nama lelaki itu. Hanya dibahasakan 'you' sahaja.
Entah angin apa yang merasuk hingga mahu dia memanggil nama lelaki itu agaknya?
"Call my name, Tiya."
Makin tegas nada yang menyapa telinga. Tegas dan dingin. Bibir yang begitu rapat di telinga menaikkan roma di leher Atiya.
Tak boleh cakap jauh sikit ke?!
Dijeling lelaki yang membuang tabiat di pagi hari. Selalunya lelaki itu sudah sibuk bersiap ke tempat kerja. Pagi ini masih lagi di katil memaksanya begini.
Dikerling jam di dinding. Sudah pukul 8. Tak kerja ke hari ni?
Soalan demi soalan mula menghurung benak. Namun bibir enggan bertanya. Buat apa menyibuk hal lelaki itu. Dia cuma berharap lelaki itu cepat pergi agar tidak terus mengganggunya.
Tiba-tiba dagunya dipaut. Memaksanya membalas renungan sepasang mata dingin itu.
"I said… call my name," deram Huzer tidak memberi ruang untuk Atiya terus membantah.
Atiya menggigit bibir. Masih enggan menurut. Renungan mata dingin yang menikam hingga ke dasar hati buat bibirnya tewas juga. Menyebut nama yang terasa janggal di bibir.
"Huzer…"
Suara itu walau hampir tidak kedengaran tetap lembut menyapa telinga. Mencairkan sedikit kebekuan di sepasang mata yang masih merenung tajam.
eBook penuh boleh didapati di E-Sentral.com
https://www.e-sentral.com/book/info/303389/bukan-mahuku