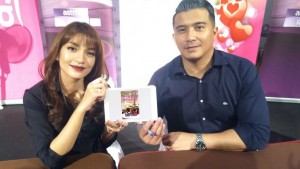 Hai readers!!! Seperti yang Admin janjikan, pada bulan ini kami berjaya menemu bual penulis buku ISTERI TUAN IHSAN, Sara Kyoko!
Kalau readers nak tahu serba sedikit tentang Sara Kyoko, boleh ikuti temu bual kami di bawah 🙂
1. Siapa yang memberi inspirasi untuk Sara Kyoko menulis?
Suami sayalah yang memberikan inspirasi untuk saya menulis. Kalau bukan beliau,  saya masih lagi seorang   pembaca novel yang cuma berangan – angan hendak baca buku sendiri.
2. Apa makanan kegemaran Sara Kyoko?
Saya paling menggemari pasta.
3.  Siapakah penulis kegemaran Sara Kyoko? (tak kisah luar negara or dalam negara)
JK Rowling – the one and only.
4. Apakah novel kegemaran Sara Kyoko? (tak kisah luar negara or dalam negara)
Rangkaian novel – novel Harry Potter. Masih tidak mampu untuk move on.
5. Ada haiwan peliharaan tak di rumah?
Ada. Dua ekor kucing yang saya berikan nama Teja dan Oddie.
6. Jika anda diberi peluang untuk melancong secara percuma, ke manakah Sara Kyoko mahu pergi dan mengapa? 
London. Sebab Harry Potter berasal di sana? 😉
7. Apakah novel baru yang bakal diterbitkan oleh Sara Kyoko? Boleh ceritakan sedikit mengenai novel tersebut?
Saya sedang dalam proses untuk menyiapkan sebuah novel romantik komedi berjudul 'perisik cinta 001'. Novel ini memaparkan kisah cinta seorang wanita 'plus size' yang menjadi seorang perisik secara bidan terjun, dengan seorang bekas bintang bola sepak antarabangsa yang penuh misteri.
8. Apakah pesanan Sara Kyoko kepada pembaca di luar?
Setiap pembaca punyai selera yang berbeza. Saya juga seorang pembaca. Saya faham perasaan seseorang kalau 'terbaca' novel yang tidak kena dengan selera saya. Tapi, jangan terus mengadili novel tersebut, apatah mempertikaikan kredibiliti penulis dan penerbit novel. Mungkin novel itu bukan untuk kita, tapi, untuk pembaca yang lain pula. Sebuah novel dihasilkan bukan untuk tatapan dan selera seorang pembaca sahaja. Berilah peluang kepada semua penulis tempatan untuk mencabar diri mereka supaya ada ruang untuk terus memperbaiki diri. Barulah industri penulisan negara boleh berkembang setanding dengan luar negara. 'Kritik bukannya kutuk'.
9. Pada pandangan Sara Kyoko, apa istimewanya novel Murni Aqila  berbanding novel lain di pasaran?
Novel – novel saya biasa sahaja. Cuma, kalau anda seorang pembaca yang memerlukan karya yang boleh mencabar minda dan perasaan, #karyasarakyoko bukanlah untuk anda. Tapi, kalau anda sukakan sebuah karya ringan yang menghiburkan, In Shaa Allah, novel – novel saya sesuai untuk anda.
10. Dari mana Sara Kyoko selalu dapatkan ilham untuk menulis? Ada yang dari pengalaman sendiri ke?
Ilham saya datangnya daripada orang sekeliling. Keluarga, sahabat, kenalan, mahupun orang asing yang cuma lalu di hadapan mata. Pengalaman peribadi juga ada membantu serba sedikit untuk mengemaskan jalan cerita saya, supaya lebih 'real'.
11. Apa rutin harian Sara Kyoko? Ada yang rare tak?
Rutin harian saya biasa sahaja. Yang rare cuma waktu saya mula menulis. Saya jenis yang hanya boleh menulis pada waktu tengah malam. Noctural homo sapien agaknya. Bayangkan saja waktu – waktu saya perlu siapkan satu manuskrip. Hidup tak ubah seperti kelawar!
12. Describe diri anda dalam 3 perkataan?
Introvert. Diam – diam ubi. Cerewet.
13. Apa nasihat Sara Kyoko kepada penulis- penulis yang masih baru dalam industri buku?
Saya juga masih baru dalam industri ini. Entah sesuai atau tidak untuk memberi nasihat. Namun, kalaulah kata – kata saya ini untuk diguna pakai, ;kepada yang lebih baru hendak berjinak – jinak dengan dunia penulisan, cuma satu saja yang saya pesan, kalau hendak menulis, tulis apa yang kita tahu, apa yang kita suka (genre). Jangan ikut 'trend' semata.
14. Selain Bahasa Melayu, Bahasa Inggeris, Apa lagi bahasa lain yang Sara Kyoko kuasai?
Malangnya, cuma dua bahasa itu sajalah yang saya mampu kuasai dengan baik.
Kami harap Sara Kyoko akan sentiasa mewarnai industri penulisan dan, jika anda peminat Sara Kyoko
Lebih banyak eBook boleh didapati di E-Sentral.com
https://www.e-sentral.com/publisher/filter/pb_2845_Lovenovel-Enterprise/~